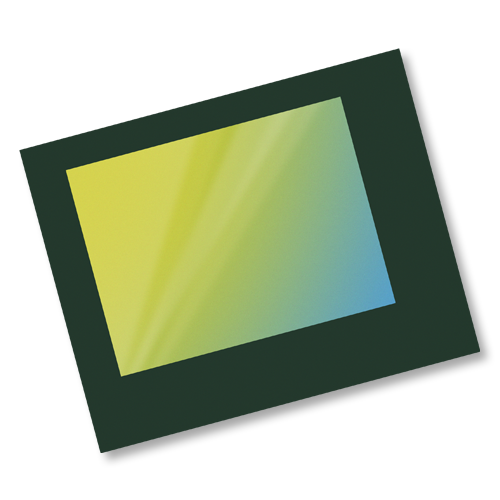 RGB-Ir CMOS 5 Megapixel Image Sensor with PureCel®Plus‑S, Global Shutter, and Nyxel® Technologies
OMNIVISION's new OX05B is the automotive industry's first 5 megapixel (MP) RGB-IR BSI global shutter sensor for in-cabin applications. With a pixel size of just 2.2 µm, it offers 940 nm NIR sensitivity for the best performance in extremely low light conditions; it has a wide field of view and enough pixels to view both the driver and occupants. Additionally, it is the first RGB-IR sensor for in-cabin monitoring to feature integrated cybersecurity.
Based on OMNIVISION's revolutionary Nyxel® near-infrared (NIR) technology, the new OX05B brings dramatically improved resolution as well as overall enhanced efficiency and design flexibility to automotive OEMs. Nyxel® technology uses novel silicon semiconductor architectures and processes to achieve the world's best quantum efficiency (QE) at the 940 nm NIR wavelength. The OX05B has the industry's highest NIR QE at 36% (a 3x boost from 12% in the previous generation). This enables the OX05B to detect and recognize objects that other image sensors would miss under extremely low lighting conditions, enabling higher-performance in-cabin camera capabilities for improved occupant and driver monitoring, security, selfies, videoconferencing and more.
The sensor comes in an OMNIVISION stacked a-CSP™ package that is 50% smaller than competitive products and allows for higher-performance image sensors in tighter camera spaces. It is also available in a reconstructed wafer option for designers who want the flexibility to customize their own package.
OMNIVISION Unveils Automotive Industry's First 5MP RGB-IR Global Shutter Sensor for In-Cabin Monitoring Systems
Support for image size: 2592 x 1944 and any cropped size
Data format: RAW RGB-Ir
2.2 μm x 2.2 μm pixel with PureCel®Plus‑S, Global Shutter, and Nyxel® technologies
Supports always-on (AO) mode up to 720p
Image sensor processor functions:

– Defective pixel cancellation

– Automatic black level correction, etc.
Dedicated safety features for supporting ASIL‑B applications
High speed serial data transfer with MIPI CSI-2
Parallel 10-bit DVP output
External frame synchronization capability
SCCB for register programming
Embedded temperature sensor
Embedded supply voltage monitor
One time programmable (OTP) memory
Cybersecurity for camera / host interface hacking prevention
Spec

OX05B1S-E89Y-1A-Z

Analog / Digital

Digital

CFA (Chroma)

RGB-Ir

Image Area

5737.6 x 4312 μm

Resolution

5MP

Package

a-CSP™

Optical Format

1/2.53"

Pixel Size

2.2 µm

Frame Rate

1944p @ 60 fps

Power Requirement

Active: 290 mW (estimated), XSHUTDOWN: 10 mW (estimated)

Operating Temperature

-40°C to +125°C

Output Format

Linear output

Shutter Type

Global Shutter

Interface

DVP, MIPI

Technology

HDR, Nyxel®, PureCel®Plus-S, RGB-Ir