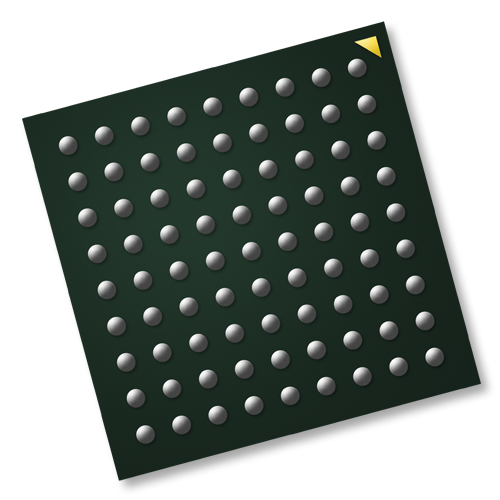 Camera Video Processor
Industry-Leading, Always-On, Low-Power Video Co-Processor for Battery Powered Surveillance Systems
The OA7600 is the industry's only ultra-low-power, always-on video co-processor, and it supports OMNIVISION's cutting edge always-on image sensors. This co-processor, along with OMNIVISION's always-on image sensor, outputs the same field of view (FOV) in both always-on and high-resolution modes, which makes it the best solution for battery powered intrusion cameras and video doorbells. The OA7600 consists of a low-power MCU, a video analytics accelerator for motion detection, and a pre-roll buffer. The on-chip accelerator can adaptively select the appropriate video analytic algorithms for each scenario in view. The pre-roll buffer continuously stores the captured images to provide traceability upon any triggering event. OMNIVISION's unique low-power design, makes it possible for the first time to integrate always-on computer vision functionality with high quality pre-roll video, into battery powered surveillance systems.
OMNIVISION's proprietary, ultra-low-power always-on link (AOL) is used between the OA7600 and the image sensor. This AOL interface allows the system to consume the lowest IO power during data transfer, which is crucial for battery powered systems.
To further reduce the complexity of system level power management design, the OA7600 also includes on-chip regulators. These regulators supply power efficiently for a variety of internal and external circuits.
The OA7600 implements rich peripheral interfaces. Additionally, its on-chip MCU captures raw footage, enabling the analytics and pre-roll data to be sent out via either the storage IO interface or serial interface.
October 11, 2022: OMNIVISION Announces 2K2K Square Resolution CMOS Image Sensor for Security Wide-Field-of-View and AR/VR/MR Pass-Through Cameras
Provides up to 6 sec of pre-roll color AO videos (360p @ 7 fps) before event happens
Same FOV of pre-roll AO video as high-resolution video
Provides better accuracy of light and color info in the main processor to stabilize the first high-resolution frame faster
Low power motion detection to provide multiple stage wake-up
Best-in-class always-on low-power total solution
Spec

OA07600

Category

IoT Processor

Operating Temperature

Commercial grade operational temperature: -30°C to +85°C

Output Format

RAW

Package

BGA

Package Dimensions

5 mm x 5 mm

Package Size

5 mm x 5 mm

Package Type

BGA

Sensor Resolution

Up to 720p

Use Case

Smart Home Monitoring - Indoor security camera, Smart Home Monitoring - Indoor webcam, Smart Home Monitoring - Smart doorbell