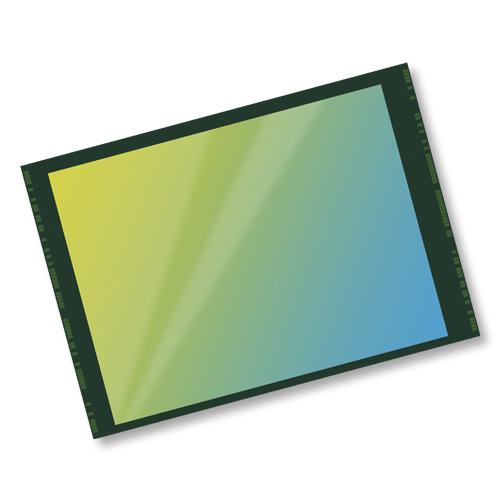 Color CMOS 200 Megapixel (16384x12288) Image Sensor with PureCel®Plus‑S Technology
OMNIVISION's OVB0B is the world's smallest 200MP image sensor with pixel size at just 0.61 µm for smartphone cameras. The unique 16-cell binning of the OVB0B delivers premium video and preview quality in 12.5MP mode, especially in low light. The OVB0B is the first 200MP to offer 100% quad phase detection (QPD) technology for excellent fast autofocus performance.
The OVB0B features the industry's first 16-cell binning capability for 4K2K video with 16 times the sensitivity. In low light environments it achieves 12.5MP performance with 2.44 µm-equivalent pixel size using near pixel 4×4 binning. An on-chip remosaic enables 50MP at 24 frames per second (fps) and 8k video at 30 fps with 1.22 µm-equivalent performance. The OVB0B can also output 12.5MP at 30 fps with 3-exposure staggered HDR timing.
The OVB0B supports CPHY, DPHY and dual DOVDD (1.8V and 1.2V).
OMNIVISION Announces the First 200MP Resolution Image Sensor with the World's Smallest 0.61-micron Pixel Size for High End Smartphones
Automatic black level calibration (ABLC)
Programmable controls for:
– Frame rate
– Mirror and flip
– Binning
– Cropping
– Windowing
Support for dynamic DPC
Supports output formats:
– 10-bit RGB 16C RAW
– 10-bit RGB Bayer
– 10-bit RGB Bayer HDR
Supports horizontal and vertical subsampling
Supports typical images sizes:
– 16384 x 12288
– 8192 x 6144
– 7680 x 4320
– 4096 x 3072
– 3840 x 2160
– 1920 x 1080
– 1280 x 720
Spec

OVB0BH0-GA5A-002A-Z

Analog / Digital

Digital

CFA (Chroma)

4-Cell, Color

Image Area

10066.176 x 7559.424 μm

Resolution

200MP

Package

COB, RW

Optical Format

1/1.28"

Pixel Size

0.612 µm

Frame Rate

12.5MP (8192x6144) @ 90 fps, 200MP (16384x12288) @ 8 fps, 50MP (8192x6144) @ 24 fps

Power Requirement

Active: 1250 mW (50MP @ 24 fps), XSHUTDOWN: <10 µA

Operating Temperature

-30°C to +85°C

Output Format

10-bit RGB RAW

Shutter Type

Rolling Shutter

Interface

MIPI, SCCB

Technology

PureCel®Plus-S