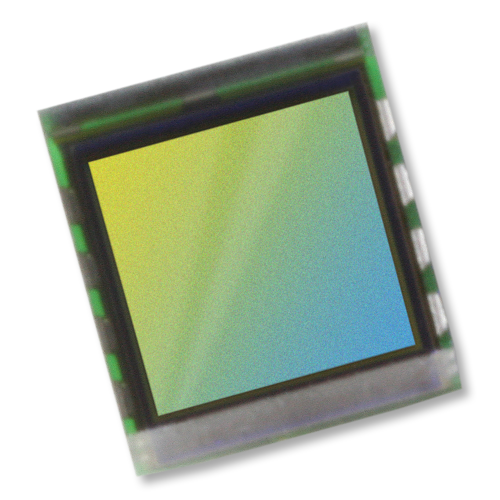 Color CMOS Analog 160 Kpixel (400 x 400) Image Sensor with OmniBSI™+ Technology
SKU

OV06946-A04A

Category

Image Sensor - 1MP and Below

Application

Medical - Image Sensors
Cost-Effective, Ultra-Compact Camera Solution for Medical and Industrial Endoscopes
OMNIVISION's OV6946 is an ultra-compact CameraChip™ sensor that brings high quality images and video with excellent color fidelity to endoscopes. The 1/18-inch sensor's 0.9 x 0.9 mm compact package, wide field-of-view with short focus distance, and low power consumption make it an ideal camera solution for medical and industrial applications.
Utilizing an advanced 1.75-micron OmniBSI™+ pixel, the OV6946 captures high quality 400 x 400 resolution images and video at 30 frames per second (fps). The OV6946 enables minimally invasive endoscope module designs with a width of 1.65 mm and height of 5 mm.
The OV6946 CameraChip™ sensor's reduced pinout and basic image signal processing functionality offer easy integration, enabling faster time-to-market.
June 15, 2015: OMNIVISION Launches Ultra-Compact, Cost-Effective CameraChip™ Sensor for Advanced Medical Imaging
Optical size of 1/18″
AntLinx™ Analog output
Automatic/manual control of exposure and gain
On-chip PLL
Low power consumption
Single 3.3V power supply
Serial peripheral interface (SPI)
OmniBSI™+ pixel structure using 0.11 µm process
Spec

OV6946

Analog / Digital

Analog

Category

1MP and Below

CFA (Chroma)

RGB Bayer

Frame Rate

Full @ 30 fps

Image Area

714 x 707 µm

Interface

Analog, AntLinx™

Optical Format

1/18"

Output Format

Analog

Package

CSP

Package Dimensions

950 x 940 µm

Pixel Size

1.75 µm

Power Requirement

25 mW (with IO consumption)

Resolution

400 x 400

Shutter Type

Rolling Shutter

Technology

AntLinx™, OmniBSI™

Use Case

Brain / Eyes / Heart / Spine - Angioscope, Brain / Eyes / Heart / Spine - Spinoscope, Dental Mirror, Ear / Nose / Throat and Airway Management - Esophagoscope, Ear / Nose / Throat and Airway Management - Otoscope, Ear / Nose / Throat and Airway Management - Rhinoscope, Musculo-skeletal - Arthroscope, Stomach and Intestine - Proctoscope, Urology and Gynaecology - Choledochoscope, Urology and Gynaecology - Cystoscope, Urology and Gynaecology - Hysteroscope, Urology and Gynaecology - Nephroscope, Urology and Gynaecology - Utero-renoscope

Operating Temperature

-20°C to +70°C