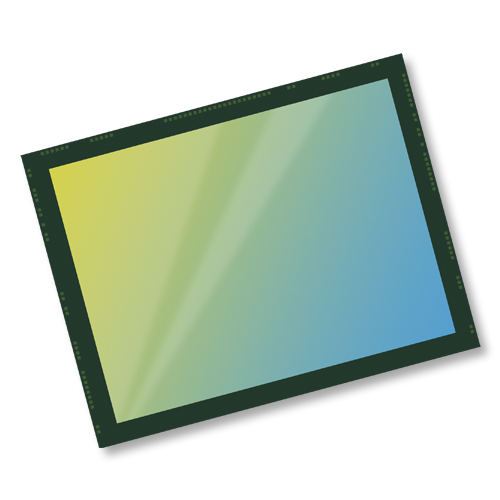 1/1.55" Color CMOS 50 Megapixel (8192 x 6144) Image Sensor with PureCel®Plus Technology
The OV50E image sensor brings the industry's best low light image and high dynamic range (HDR) video capturing capabilities to rear-facing main cameras in high-end and mainstream smartphones. The OV50E features staggered HDR and DCG™ technology for improved HDR and crop zoom support, 100% quad phase detection (QPD) for enhanced autofocus, and better low light performance over previous-generation image sensors. The new OV50E combines 50MP resolution and 1.0 µm pixel size in a 1/1.5‑inch optical format.
The OV50E can achieve up to 64x analog gain for full resolution, or 256x analog gain for 4 cell binning resolution. Built on OMNIVISION's PureCel®Plus‑S stacked die technology, the OV50E can also use near-pixel binning to output a 12.5MP image or 4K2K video with four times the sensitivity, yielding 2.0 µm‑equivalent performance for preview and video. The maximum dynamic range reaches more than 100 dB.
The OV50E's second-generation QPD enables 2×2 phase detection autofocus across the sensor's entire image array for 100% coverage, resulting in improved distance calculation, faster autofocus and better low-light performance. Premium image quality is further enabled by the combination of on-chip remosaic for the QPD color filter array to full Bayer resolution.
Output formats include 50MP, or 8K video, with QPD autofocus at 30 frames per second (fps); 12.5MP with QPD autofocus at 60 fps; 4K2K video with QPD autofocus at 60 fps; and 1080p at 240 fps. The OV50E supports the CPHY/DPHY MIPI interface and dual DOVDD 1.8/1.2V.
August 8, 2022: OMNIVISION's New 50MP Image Sensor Brings Industry-leading Low Light Still Image and Ultra High Dynamic Range Video to Rear Facing Smartphone Cameras
Automatic black level calibration (ABLC)
Programmable controls for:
– Frame rate
– Mirror and flip
– Binning
– Cropping
– Windowing
Support for dynamic DPC
Supports output formats:
– 10-bit RGB RAW
– 12/14-bit RGB RAW after DCG combination
Supports horizontal and vertical subsampling
Supports typical images sizes:
– 8192 x 6144
– 4096 x 3072
– 4096 x 2304
– 1920 x 1080
– 1280 x 720
Standard serial SCCB interface
Up to 4-lane MIPI TX interface with speeds up to 3.0 Gbps/lane
2/3 trio C-PHY interface, up to 3.5 Gsps/trio
Supports type 2 QPD PDAF
HDR support:
– DCG RAW or combined RAW
– Stagger HDR 2/3 exposure timing
– DCG RAW or DCG combined RAW + VS RAW
On-chip QPD to Bayer converter
Three on-chip phase lock loops (PLLs)
Programmable I/O drive capability
Built-in temperature sensor
1.008 μm pixel
Spec

OV50E

Analog / Digital

Digital

CFA (Chroma)

4-Cell

Image Area

8289.792 x 6225.408 μm

Resolution

50MP

Package

COB, RW

Optical Format

1/1.55"

Pixel Size

1.008 µm

Frame Rate

Full @ 30 fps

Power Requirement

XSHUTDOWN: <10 µA

Operating Temperature

-30°C to +85°C

Output Format

10/12/14-bit RGB RAW

Shutter Type

Rolling Shutter

Interface

MIPI, SCCB

Technology

PureCel®Plus‑S