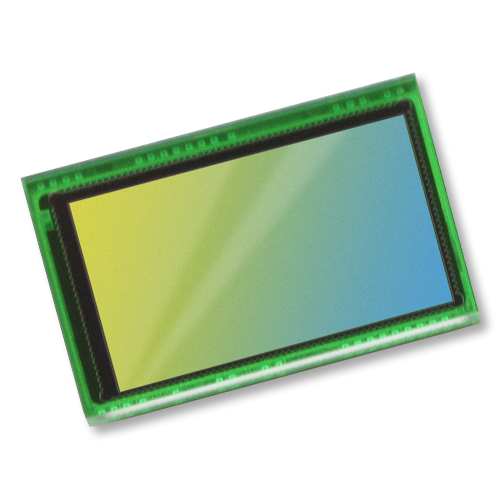 Color CMOS 720p (1280x720) HD Image Sensor with OmniPixel®3‑HS Technology
SKU

OV09732-H35A

Category

Image Sensor - 1MP and Below

Application

Surveillance - Image Sensors
OMNIVISION's OV9732 is a low-power and ultra-compact CameraChip™ sensor that brings 720p high definition (HD) video to mainstream security systems and wireless battery-powered smart-home cameras. Compared to the previous generation OV9712, the OV9732 is 35 percent smaller and delivers dramatically improved pixel performance.
The OV9732 CameraChip™ sensor utilizes OmniPixel®3-HS high sensitivity 3.0 µm pixel technology to bring industry-leading scene reproduction to a wide range of security and lifestyle camera applications that operate in extremely high- and low-light conditions. The sensor's narrow 9-degree chief ray angle (CRA) supports consumer-grade optical lens systems and reduces image artifacts for enhanced performance.
When operating in low-power mode, the 1/4-inch OV9732 requires just 99 mW to capture 720p HD video at 30 frames per second.
Support for image sizes:
– Full size (1280×720)
– VGA (640×480)
– 2×2 RGB binning (640×360)
Support for output formats:
– 10-bit RAW output with 1-lane MIPI and DVP
On-chip phase lock loop (PLL)
Programmable controls for:
– Frame rate
– Mirror and flip
– Gain/exposure
– Windowing
Support for horizontal and vertical sub-sampling
Low power mode (LPM) function
Capable of maintaining register values at software power down
Standard SCCB interface
GPIO tri-state configurability and programmable polarity
FSIN
Image quality control:
– Defect pixel correction (DPC)
– Automatic black level calibration (ABLC)
Spec

OV09732-H35A

Analog / Digital

Digital

CFA (Chroma)

RGB Bayer

Image Area

3888 x 2208 µm

Resolution

720p

Package

CSP

Optical Format

1/4"

Pixel Size

3.0 µm

Frame Rate

Full @ 30 fps

Power Requirement

Active: 99 mW, Standby: 36 µW

Operating Temperature

-30°C to +70°C

Output Format

RAW

Shutter Type

Rolling Shutter

Interface

DVP, MIPI

Technology

OmniPixel®3-HS