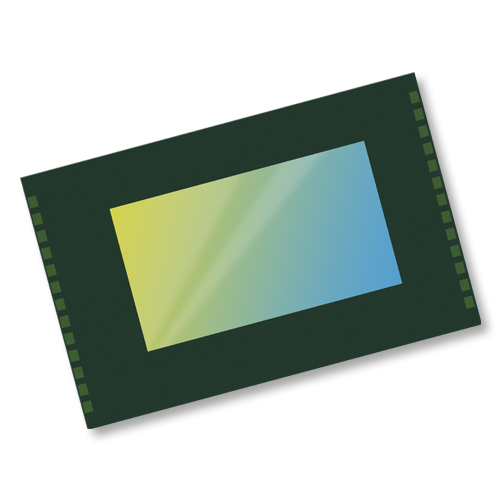 1/7.3" Color CMOS 2‑Megapixel (1928 x 1088) Image Sensor with PureCel®Plus Technology
SKU

OV02E10-A20A-001A-Z
OV02E10-GA5A-001A-Z
1080p Full HD Image Sensor with Staggered HDR for High-performance Video in Thin Bezel Notebooks and Tablets
The OV02E is a 1080p full high-definition (HD) image sensor with staggered high dynamic range (HDR) for devices with thin bezel designs, including mainstream and premium notebooks, tablets and IoT devices. The feature-packed 1/7.3‑inch-format sensor works with artificial intelligence (AI) chips to sense human presence in always-on ultra-low power mode, extending battery life for portable devices.
The OV02E has a small die size for cameras with the most compact footprint, ideal for devices with a screen-to-body ratio of less than 3 mm Y size, such as tablets and wearable devices. OMNIVISION's OV02E sensor has a 1.12‑micron (µm) backside-illuminated (BSI) pixel based on the company's proven and proprietary PureCel®Plus architecture for advanced pixel sensitivity and quantum efficiency. The sensor features 2‑megapixel (MP) full HD 1080p video at 60 frames per second (fps). It supports multiple camera synchronization for machine vision and IoT applications where depth detection is needed.
The OV02E sensor's always-on capability features an ultra-low power state that works with mobile MIPI and SPI.
May 24, 2023: OMNIVISION Announces New 1080p Full HD Image Sensor with Staggered HDR for High-performance Video in Thin Bezel Notebooks and Tablets
Supports image sizes:
– 1080p (1920 x 1080)
– 720p (1280 x 720)
– 540p (960 x 540)
– 270p (480 x 270)
Supports mirror and flip, cropping, and windowing
Supports output formats: 10-bit RGB RAW
Two on-chip phase lock loops (PLLs)
2K bits of embedded one-time programmable (OTP) memory
Static DPC function based on OTP
Supports static defect pixel correction and automatic black level calibration
Two-wire serial bus control (SCCB)
Supports multi-camera synchronization function
Slave SCCB interface for sensor setting, with max 400 kHz (supports 1 MHz with ECLK 12 MHz) speed
Spec

OV02E

Analog / Digital

Digital

Category

2MP to 5MP

CFA (Chroma)

Color

Frame Rate

Full (HDR) @ 30 fps, Full @ 60 fps

Image Area

2159.36 x 1218.56 μm

Interface

MIPI

Optical Format

1/7.3"

Output Format

10-bit RGB RAW, 8-bit EMZA SPI, 8-bit RGB RAW for ULP

Package

COB, CSP, RW

Pixel Size

1.12 µm

Resolution

2MP, 1080p

Shutter Type

Rolling Shutter

Technology

HDR, PureCel®Plus

Use Case

IoT Devices, Notebooks, Tablets

Operating Temperature

-30°C to +85°C