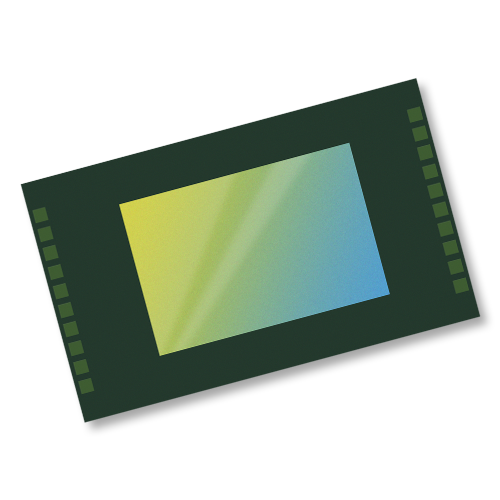 CMOS 1 Megapixel (1280x800) Image Sensor with PureCel®Plus‑S Technology
SKU

OV01A1B-GA5A

Category

Image Sensor - 1MP and Below
The OV01A family of image sensors is built on OMNIVISION's most advanced 1.12-micron PureCel®Plus stacked-die architecture to deliver best-in-class performance while maintaining an extremely small footprint. By enabling a camera module size of just 2.5 mm in the "y" dimension and less than 2 mm in the "z" dimension, the OV01A image-sensor family is ideal for space-constrained applications such as notebooks and mobile devices with thin bezels.
To suit the performance requirements of different mobile applications, the OV01A is available in three versions: the OV01A10 Bayer color sensor, the OV01A1B monochrome infrared (IR) sensor and the OV01A1S RGB-Ir sensor.
Key highlights of each sensor:
OV01A10: Delivers excellent Bayer color imaging throughout the visible light spectrum
OV01A1B: Optimizes near-infrared (NIR) quantum efficiency for biometric imaging
OV01A1S: Combines RGB and IR imaging capabilities in a single sensor
The sensors can output 720p high definition (HD) video at 60 frames per second (fps), 1280 x 800 resolution video at 60 fps, or VGA video at 90 fps.
1.116 µm x 1.116 µm pixel
Optical size of 1/11″
32° CRA
1MP at 60 fps
Programmable controls for:
– Frame rate
– Mirror and flip
– Cropping
– Windowing
Supports images sizes:
– 1MP (1280×800)
– 720p (1280×720)
– VGA (640×480), and more
Support for output formats:
– 10-bit RAW
32 bytes of embedded one-time programmable (OTP) memory for customer use
Two-wire serial bus control (SCCB)
MIPI serial output interface (1-lane)/LVDS
Two on-chip phase lock loops (PLLs)
2x binning support
Image quality controls:
– Defect pixel correction
– Automatic black level calibration
Suitable for module size of 4 x 3.5 x 2 mm
Spec

OV01A1B-GA5A

Analog / Digital

Digital

CFA (Chroma)

B&W

Image Area

1446.34 x 910.66 µm

Resolution

1MP

Package

COB

Optical Format

1/11"

Pixel Size

1.116 µm

Frame Rate

Full @ 60 fps

Power Requirement

Active: 82.2 mW, Standby: 0.5 mA, XSHUTDOWN: 2 µA

Operating Temperature

-30°C to +85°C

Output Format

RAW

Shutter Type

Rolling Shutter

Interface

MIPI / LVDS

Technology

PureCel®Plus-S